Nowadays, boilers are given an efficiency rating so that consumers can quickly assess the efficiency of all modern boiler models.  
Do you know how efficient your boiler is? If you don't, we suggest you make the effort to find out because the more efficient your boiler, the more money you could save each year. Seeing as the cost of heating your home makes up between 50% and 60% of your energy bills, it's now more important than ever to learn about boiler efficiency.
Thankfully, there are currently easy-to-understand energy efficiency rating systems and labelling schemes in use, such as SEDBUK and ErP. These systems are designed to increase awareness of boiler efficiency and encourage consumers to replace their old inefficient boilers with more efficient models.
SEDBUK Boiler Energy Efficiency Ratings and Labels Explained
A number of years ago, the government and boiler manufacturers developed a rating scheme called SEDBUK (Seasonal Efficiency of Domestic Boilers in the UK) to help consumers understand how energy efficient their appliances really are.
The first SEDBUK system was introduced in 2005, which rated boilers from A to G. Under this system, all boilers that achieved a score over 90% for efficiency were A-rated, and those that achieved below 70% were G-rated. However, in 2009, the SEDBUK system changed by giving all boilers a percentage rating, rather than a letter rating. These days, you may see either a SEDBUK letter or percentage rating used on a label that is displayed on a new boiler or the manufacturer's website.
The table below enables you to see how the SEDBUK 2005 and 2009 ratings compare.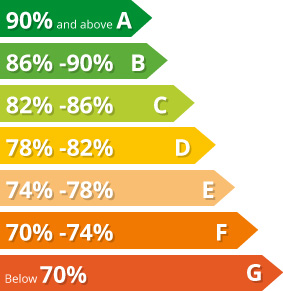 Although many boiler manufacturers still use these systems, SEDBUK was replaced by the ErP Directive in 2015.
ErP Energy Efficiency Ratings and Labels Explained
The ErP (Energy related Products) Directive came about in 2015 and is a regulation set by the European Union to help lower carbon emissions across Europe. Not only does the ErP Directive aim to improve the efficiency of boilers but also phase out inefficient heating and hot water products to achieve the EU's 20-20-20 targets, which are as follows:
A 20% reduction in the EU greenhouse gas emissions (from 1990 levels)
A 20% improvement in overall energy efficiency across the EU
A 20% increase in energy produced from renewable sources
Under the current ErP scheme, all boiler manufacturers must ensure their products come with a label that displays an energy efficiency rating from A+++ down G to make consumers more aware of the efficiency of their appliances. Boilers that fall into the A band are the most efficient, and those that are rated G are the least efficient.
Does Boiler Efficiency Really Matter?
Yes, it matters quite a lot actually. As well as helping you to save more money on your bills, an efficient boiler is much kinder to the environment. It probably won't make too much difference if you ditch an 86% efficient boiler for a 90% model, but you will notice a significant reduction in your bills and carbon footprint by replacing a G-rated or F-rated boiler with an A-rated model.
We should also mention that all new boilers installed in UK homes must be condensing appliances as they are at least 25% more efficient than non-condensing boiler models. Condensing boilers achieve better efficiency levels because they capture and reuse some of the heat that would otherwise have been wasted. Unlike non-condensing boilers that are only between 55% and 78% efficient, condensing boilers are up to 99% efficient and could help to save you over £300 a year on your fuel bills.
Is it Time to Replace Your Old Inefficient Boiler?
If you're unsure how efficient your existing boiler is, it may be worth checking your boiler manual. Having said that, your boiler may not be as efficient as the manual claims, especially if you've owned it for a number of years because boilers can lose efficiency over time. To check the efficiency of a current boiler model, you can use the boiler efficiency database online.
By law, boilers installed from October 2010 must at least 88% efficient, so if you upgraded your boiler around or after this time and have it serviced annually, you probably won't need to find a replacement right now. But if you have an older boiler, it won't be as efficient as a modern boiler, which means it will use more fuel and you'll be spending more money on heating than you need to. Since all new boilers must be condensing by law and the majority of modern boilers are A-rated, it's easy to find a more efficient system to replace an old inefficient model.