Ferroli Energy Top Boilers
Ferroli Energy Top Boilers typically cost between £2,133.00 and £3,426.56 including VAT and excluding installation.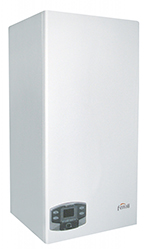 Featuring high-efficiency condensing technology, the Ferroli Energy Top is suitable for heating only systems but can provide hot water when used with a mains water supply.
As a result, you don't need to have a cold water tank or hot water cylinder installed in order for this appliance to provide you with heating and hot water. Measuring in at 945mm (H) x 445mm (W) x 440mm (D), this wall mounted boiler can be used alone or multiple units can be linked to allow for cascading operation.
Available in three outputs of 60kW, 80kW and 125kW, the boiler is a practical solution for large domestic dwellings and small commercial properties. It comes with a standard 2-year warranty and will cost you anything between £2,133.00 and £3,426.56.
Boiler Energy Efficiency Credentials
Boasting an efficiency level of 98%, the Ferroli Energy Top is an A-rated condensing boiler with a 4-star energy rating. It's also an environmentally friendly model and has been rated 5 stars for its very low NOx and CO2 emissions. This appliance comes with an air-gas metal fibre burner with variable speed fan and pneumatic gas valve to achieve efficiency levels of over 107% and allow for a range of modulation which can extend from 11 to 100% of rated output.
Energy Top Technology and Main Advantages
Although configured for operation on natural gas, the Ferroli Energy Top can be converted to LPG (liquefied petroleum gas) with a conversion kit. In addition to the air-gas premix metal fibre burner we mentioned above, the boiler also features a high-efficiency aluminium silica alloy heat exchanger with 31mm waterways to reduce corrosion and eliminate hot spots.
Independent external switching of controls helps to maximise efficiency, and the included heat exchanger allows for a maximum temperature difference across the flow and return. The boiler also comes with a hot surface ignition with independent flame detection probe, a low water pressure protection switch and independent internal 6 bar safety valve.
Perhaps one of the most impressive things about the Energy Top is that it enables you to link together a number of units without any need for additional controls. We should also mention that this boiler is suitable for pressurised systems and open vented systems with a minimum of 1 bar availability.
Is the Energy Top the Right Boiler Type and Size for Your Home?
With a 60kW, 80kW and 125kW model available in the Energy Top range, the boiler is perfect for large homes with more than one bathroom and small commercial installations. Since it doesn't require a tank or cylinder and the all of the parts are accessible from the front, this appliance is a great option if you want to keep the unit in a tight space. To ensure you pick the right boiler and output for your home, we recommend you always consult with a Gas Safe engineer over your heating and hot water needs.
24
KEY FEATURES & BENEFITS
| | |
| --- | --- |
| 4-star energy efficiency rating | Save money on your gas bills |
| Low NOx and CO2 emissions | Environmentally friendly |
| Modulation installation without the need of additional controls | Save time and money |
| Independent external switching or controls | Maximises efficiency |
| Aluminium silica alloy heat exchanger | Maintains the boiler's high performance |
| Modular boiler control | Heat output can be optimised according to the heating load of the system |
| Cascade operation with different flue options | Increased flexibility |
| Boiler manifold can be bolted directly together | Minimises installation time and use of space |
| 2-year parts and labour warranty | Confidence and peace of mind |
Our Honest Opinion of the Ferroli Energy Top
Without question, the Energy Top is a highly energy efficient condensing boiler with state-of-the-art technology and impressive features. Considering the boiler is ideal for large houses and small commercial sites, you might be surprised to learn that it's quick and simple to install – even if you do opt for a cascade installation.
You'll also be pleased to know that the Energy Top's low polluting emissions leave a smaller environmental footprint than older boilers and help to keep the heat exchanger cleaner to reduce maintenance. And if you do decide to connect multiple units, this can be performed using special flue gas and water circuit accessories.
All in all, we think this offering by Ferroli is a fabulous choice if you want a reliable, energy efficient boiler that can satisfy a higher demand for heating and hot water.
Advice on Boiler Quotes and Gas Safe Engineers
If you want to find the best deal on the Ferroli Energy Top and the installation work, we suggest you liaise with both local and national installers and ask for a fixed price (to avoid any hidden costs) when obtaining quotes. You must also make sure you choose an installer that is legally allowed to work on gas appliances. To check their qualifications and registration details, ask to view your installers Gas Safe ID card or look up the individual or company at the Gas Safe Register website.