Biasi Inovia System ERP Boilers
Biasi Inovia System ERP Boilers typically cost £598.80 including VAT and excluding installation.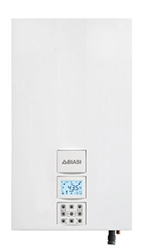 The Inovia System ERP has been described as one of Biasi's best ever system boilers because it is equipped with cutting-edge technology and some rather impressive features.
It measures 700mm (H) x 400mm (W) x 290mm (D), so it's quite small and can be placed virtually anywhere in your property. This model offers 25kW of heating power and must be used in conjunction with a separate hot water cylinder in order to deliver a constant supply of hot water.
Ideally suited to smaller homes, this boiler comes with a standard 5-year parts and labour warranty and has a typical price tag of £598.80.
Boiler Energy Efficiency Credentials
Biasi's Inovia System is a high efficiency, SEDBUK A rated boiler with a 92% heating efficiency rating. The boiler is equipped with quad processor technology to enhance energy efficiency and to help lower your fuel bills. If you want to reduce your bills even further, you can attach an optional energy saving temperature probe to the appliance to enable the boiler to automatically change its heating output in accordance with outside temperatures.
Inovia System ERP Technology and Main Advantages
One of the neatest things about this boiler is its self-rectifying technology that self-rectifies safety cut outs when a disruption in the gas supply is detected. Plus, the Inovia System has built-in frost protection to eliminate the risk of freezing issues, along with a built-in component ant seize routine that prevents the components from seizing when the boiler is inactive.
Another interesting fact about this compact model is that it can be integrated with solar hot water systems so that you can use free heat from the sun to warm up your water. The boiler also has a digital pressure gauge, 7-day multi-event digital programmer and a timed pre-heat function for your hot water.
Other key features include a large LCD screen for ease of use and to remind you when your annual service is due, a cold water inlet temperature sensor to make sure the boiler uses the exact amount of energy required to match demand, and a fault display to warn you about any issues with the unit.
Is the Biasi Inovia System ERP the Right Boiler Type and Size for Your Home?
The Biasi Inovia System is only available in a 25kW, making it a good option for properties with around 3 bedrooms and up to 2 bathrooms. It's also a space saving solution and is ideal for homes that already have a hot water storage cylinder in place but don't have enough loft space to store separate tanks. Having said that, this boiler won't be right for every home of this size, so you must ask a Gas Safe engineer to look at your property and assess your heating and hot water usage habits before making a final decision.
56
KEY FEATURES & BENEFITS
| | |
| --- | --- |
| A-rated combi boiler | Save money on your gas bills |
| Class 5 NOx rating | Environmentally friendly |
| Compact measurements | Can be installed almost anywhere |
| Built-in weather compensation | Improves comfort levels and energy savings |
| Built-in frost protection | Prevents cold weather damage |
| Anti-seizing technology | Reduces maintenance costs |
| Self-rectifying technology | Extremely reliable performance |
| 5-year parts and labour warranty | Confidence and peace of mind |
Our Honest Opinion of the Biasi Advance Combi
The Biasi Advance Combi with electronic ignition is a very affordable boiler that is not only straightforward to install but also easy to use. As both the control panel and pressure gauge are featured on the front face of the unit, you can reach the buttons, read the display and check the pressure all at the same time.
We're glad to see that Biasi has included weather compensation to allow the boiler to instinctively reduce or increase its output in line with the outside temperature but it does require a temperature probe – and you'll need to pay extra for this.
While many homeowners and engineers have said the boiler is reliable and equipped with a great control system that offers high levels of safety, comfort and energy savings, others are less than impressed with this model and have complained about Biasi's customer service.
Advice on Boiler Quotes and Gas Safe Engineers
If you think the Biasi Advance Combi is the one for you, we recommend you get at least 3 quotes on both the boiler and installation. By doing so, you can compare costs and will have more chance of finding a great deal. We must also stress the importance of choosing a Gas Safe registered engineer who is qualified to do the work you need doing. You can check an engineer's qualifications by looking at the details on their ID card or running a search at the Gas Safe Register website. If you haven't the time to shop around, you can use our free online service to receive no-obligation quotes from reputable boiler replacement companies and Gas Safe installers.