Keston Heat Boilers
Keston Heat Boiler prices start at £2,340.87 and go up to £2,672.16 including VAT and excluding installation.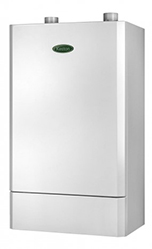 The Keston Heat is one of the most powerful appliances available from this reputable boiler brand and it comes in two different outputs of 45kW and 55kW.
Even though it's on the big side at 850mm (H) x 500mm (W) x 360mm (D), the boiler is lightweight and can be hung on a wall or installed into a prefabricated floor mounted frame. You also need to know that this model is ideally suited to properties with a traditional heating system that includes a separate hot water cylinder and a cold water storage tank in the loft.
This boiler comes with a 5-year parts and labour warranty and will set you back anything between £2,340.87 and £2,672.16.
Boiler Energy Efficiency Credentials
When you purchase the Keston Heat, you'll be getting a SEDBUK A rated boiler with seasonal efficiencies of up to 97%. The unit is a condensing modulating boiler, which means it is much more energy efficient than conventional alternatives and guarantees excellent energy savings and a reduced carbon footprint. By being so efficient, the appliance will also lower running costs and reduce your energy bills.
Keston Heat Technology and Main Advantages
The Keston Heat boasts easy to read controls and a large backlit display with plain English text to enable you to manage the boiler with complete ease. It has also been designed with installation speed in mind, which helps to make life easy for your engineer as well.
Inbuilt features include a low energy modulating pump and a weather compensator to allow the boiler to automatically respond to outside temperature changes. In addition to this, the boiler has two remote alarm contacts, along with a high 5:1 turndown to boost efficiency and minimise running costs.
If need be, the Keston Heat can be sited up to 21 metres away from the flue outlet with a little help from a twin flue. Interestingly, the boiler can also be positioned independently in cascades of up to 4 units to make this model suitable for commercial sites too.
Is the Keston Heat the Right Boiler Type and Size for Your Home?
Keston's Heat boiler offers high levels of heating comfort and is an excellent choice for larger homes and commercial buildings with large hot water requirements. For example, it can supply 2 bathrooms with plenty of hot water at the same time and multiple units can be combined to cater for properties with more than just a couple of bathrooms. Please note, this information is intended to be a rough guide, and you must consult with a Gas Safe engineer to help you determine if this boiler is right for your home or commercial site.
162
KEY FEATURES & BENEFITS
| | |
| --- | --- |
| A-rated combi boiler | Save money on your gas bills |
| Class 5 NOx rating | Environmentally friendly |
| Cascade operation | Higher output and increased flexibility |
| Weather compensation | Improves comfort levels and energy savings |
| Large backlit display and simple controls | Easy to operate and adjust temperature |
| Can be wall hung or floor mounted | Siting flexibility |
| Quick and easy to install | Cost-effective installation |
| 5-year parts and labour warranty (subject to terms and conditions) | Confidence and peace of mind |
Our Honest Opinion of the Keston Heat
If you have a large property and are looking to replace your old heat only boiler (sometimes called a regular, traditional or conventional boiler) with minimal fuss, the Keston Heat is a great option. The heat outputs on offer mean that this model will always provide you with plenty of heating and lashings of hot water, even if you do have multiple bathrooms.
One of the neat things about the boiler is that it can be transformed into a multi-boiler cascade system (when multiple units are connected) to help you achieve your desired output. It also offers a number of key features to enable not only ease of operation but also installation and maintenance.
We should mention Keston's leading twin flue technology that offers flue run capabilities up to 21 metres because this means the unit can be kept pretty much anywhere. And whether you need the boiler to run on natural gas or LPG (liquefied petroleum gas), the Keston Heat can deliver.
Advice on Boiler Quotes and Gas Safe Engineers
When shopping around for Keston Heat Boiler quotes, don't forget to liaise with at least a few boiler replacement suppliers and installers to ensure you find a great deal. You also need to be aware that it is now a legal requirement for all boiler installers to be Gas Safe registered. To check the qualifications and registration status of an engineer, ask to view the details on their ID card or visit the official Gas Safe Register website. If you haven't the time to collect this information, you can use our free online service to obtain no-obligation quotes from trusted companies and Gas Safe installation professionals.