Glow-Worm Energy System Boilers
The Glow-Worm Energy System Boiler typically costs between £712.66 and £833.88 including VAT and excluding installation.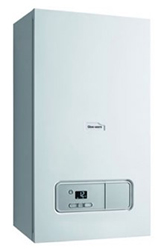 Manufactured in the UK, the Energy System is one of Glow-Worm's most popular system boilers because it's compact, highly efficient and reasonably priced.
As it measures 700mm (H) x 390mm (W) x 280mm (D), it can be installed almost anywhere in the home and can even be sited in a standard-sized kitchen cupboard. The boiler is available in 5 different outputs of 12kW, 15kW, 18kW, 25kW and 30kW, meaning there is an option suitable for small, medium and large properties.
The amount you will need to spend to own the Energy Combi will depend on which output you require, with prices starting at around £712.66 and going up to £833.88. A standard 7-year warranty is included in the price, which can be extended if the boiler is installed by a Club Energy engineer.
Boiler Energy Efficiency Credentials
Glow-Worm's Energy Combi is A-rated for efficiency, meaning it will save more energy than an older boiler and play its part in reducing your fuel bills. It comes with an automotive grade aluminium heat exchanger and high-efficiency Grundfos modulating pump, both of which help to keep running costs low. Plus, efficiency, performance and comfort levels can be improved when the boiler is installed with a Climapro2 RF control or a MiGo Wi-Fi thermostat that can be controlled via a smartphone app.
Energy System Technology and Main Advantages
Designed to look smart in any home, the Energy System features a bright LCD display and simple-to-use interface to allow you to manage temperatures with ease and have access to boiler information, even when the unit is sited in a poorly lit area.
The included long-lasting aluminium heat exchanger has been developed to be super easy to maintain, meaning it will not only help to reduce your bills but also keep service and maintenance costs to a minimum. This component is also extremely quiet and has helped the boiler to earn the Quiet Mark accreditation, making it one of the best boilers for quiet operation.
Then there's the impressive Grundfos pump that can automatically adapt to your heating and hot water demand all by itself. This is a particularly neat feature as it will reduce the amount of energy you waste and in turn, save you money.
Is the Glow-Worm Energy System the Right Boiler Type and Size for Your Home?
Although suitable for homes with high heating and hot water demands, there are lower output options available for smaller less needy properties. The boiler is also a great choice for dwellings with more than one bathroom because it can provide a constant supply of hot water to multiple taps at the same time. You will need a separate cylinder for storing hot water with this one, however, the boiler doesn't require a cold water loft tank. As it's impossible to say which output you'll need without seeing your home or knowing your typical usage habits, you must consult with a Gas Safe engineer prior to purchasing this model.
111
KEY FEATURES & BENEFITS
| | |
| --- | --- |
| A-rated combi boiler | Save money on your gas bills |
| Highly efficient Grundfos pump | Maximises efficiency and lowers running costs |
| Automotive grade aluminium heat exchanger | Highly efficient performance |
| Clear LED display | Delivers clear visibility in poor light conditions |
| Compact size | Can be installed in a kitchen cupboard |
| Quiet Mark approved | Ultra-quiet whilst in operation |
| 7-year parts and labour warranty | Confidence and peace of mind |
| Free warranty upgrade when installed by a Club Energy installer | Added peace of mind |
Our Honest Opinion of the Glow-Worm Ultimate3 Regular
The Glow-Worm Ultimate3 Regular is a reliable boiler that will meet the requirements of your small to medium home, giving you plenty of heat for your radiators and bucket loads of water when you need it. It's also a budget-friendly solution with energy efficient components that can not only lower your energy bills but also reduce your carbon footprint.
This model's compact size and sleek design help to ensure the unit will look great in your house, however, you can keep it tucked away in a kitchen cabinet if you prefer. And because installation, maintenance and servicing are so straightforward, disruption is minimal and engineer costs are cheaper.
If having lots of hot water is a priority and you don't have the biggest budget to play with, the Ultimate3 Regular could be the efficient and economical boiler for you. Just remember to get a Gas Safe engineer to install the unit and register the installation to validate your 5-year warranty.
Advice on Boiler Quotes and Gas Safe Engineers
To get the best deal on the Glow-Worm Ultimate3 Regular, you'll need to obtain a few quotes on the boiler and installation so that you can compare prices. It's also extremely important to choose a Gas Safe installer to ensure the fitting work is carried out correctly and in a safe manner. You can check the status of an engineer by taking a look at the details on their ID card or running a search at the official Gas Safe Register website. If you haven't the time to do your research, please don't hesitate to use our free online service to get a range of no-obligation quotes from trusted suppliers and registered installers.