Potterton Ultra System Boilers
Potterton Ultra System Boilers typically cost between £920 and £1,250 including VAT and excluding installation.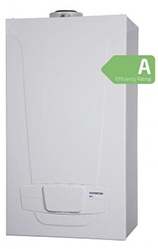 Easy to handle and install, the Potterton Ultra System is a gas wall mounted condensing system boiler that comes in five outputs including 12kW, 15kW, 18kW, 24kW and 28kW.
It has compact dimensions that measure 626mm (H) x 370mm (W) 270mm (D) and is a great option for homes where a hot water cylinder is already installed. The boiler is also compatible with solar systems and a selection of optional intelligent controls.
Perfect for most property sizes, the Ultra System comes with a standard 2-year parts and labour warranty and will set you back anything between £920 and £1,250.
Boiler Energy Efficiency Credentials
The Potterton Ultra System is recommended by the Energy Saving Trust because it is an A-rated model with an official efficiency rating of 89%. It's a fully modulating system boiler that knows precisely how much fuel is required to meet your set central heating temperatures, meaning it can also help to reduce your energy bills. This boiler can be used with an optional Multifit GasSaver device that basically recycles heat from the flue gases and uses the recycled gas to preheat your hot water. By using this device, you can save up to 37% on gas for your hot water. What's more, the appliance is Megaflo Eco Solar Cylinder compatible.
Ultra System Technology and Main Advantages
One of the main benefits of this boiler is that it is supplied with an industry leading choice of flue lengths up to 20 metres to enable you more options as to where the unit can be placed. In addition to this, this model comes with a pre-plumbing jig to allow your engineer to pre-install the pipework before the boiler is fitted to keep installation time to a minimum.
Quiet in operation, the boiler Potterton's Ultra System has robust hydraulic connections to enhance boiler quality and reliability. You may also be interested to know that this appliance achieves ultra-low NOx emissions at Class 5 levels – making it a 'best in class' boiler.
Not forgetting the fact that this is a fully modulating boiler, which means it can adjust its heat output on its own without the need for you to make any adjustments. And in case you aren't already aware, a modulating boiler like the Ultra System not only helps to save you money but it also plays its part in ensuring your home is extremely energy efficient.
Is the Potterton Ultra System the Right Boiler Type and Size for Your Home?
Available in outputs from 12kW to 28kW, the Potterton Ultra System will satisfy the needs of most small and medium-sized properties with enough space to home to hot water storage cylinder. If you have little or no space in the loft for a cold water tank, worry not because this boiler has no use for one. When it comes to determining what size output you'll require, you must ask a Gas Safe engineer to assess your home, as well as your typical heating and hot water usage habits. Generally, small homes will require a smaller output and bigger homes will need to go for a larger output size.
243
KEY FEATURES & BENEFITS
| | |
| --- | --- |
| A-rated combi boiler | Save money on your gas bill |
| NOx Class 5 – Best in class | Environmentally friendly |
| Energy Saving Trust endorsed | High energy efficiency |
| Concealed controls | Family friendly |
| Pre-plumbing jig | Quick and tidy installation |
| Robust hydraulic connections | Improves quality and reliability |
| Front access to components | Servicing is easier and quicker |
| Flue lengths up to 20 metres | Siting flexibility |
| Compatible with Multifit GasSaver | Save up to 37% on gas for your hot water |
| Compatible with Megaflo Eco Solar Cylinders | Greater fuel savings for hot water |
| 2-year parts and labour warranty | Confidence and peace of mind |
Our Honest Opinion of the Potterton Ultra System
After everything we've said, it's pretty obvious that this is a highly efficient system boiler that allows for versatile siting and easy installation. What we haven't already mentioned is the boiler has front access to all internal components so that your engineer can spend less time on maintaining and servicing the unit, which should result in lower call-out costs.
We also really like the fact that efficiency can be enhanced and the boiler can provide greater fuel savings when installed with optional devices and solar cylinders. Yes, you will need to pay extra for these accessories but they will save you hundreds in energy costs in the long run.
Advice on Boiler Quotes and Gas Safe Engineers
If you would like a free quote on the Potterton Ultra System Boiler, please don't hesitate to use our handy quote engine. Before you do, remember to get quotes from local and national installers and always ask for a fixed price on the boiler and installation so you find the best deal without any hidden charges. You must also make sure that your chosen installer is legally permitted to work on gas appliances before allowing them to enter your home. To find out this information, simply check the official list of registered engineers and businesses at the Gas Safe Register website. And just so you know, all of our recommended installers are already registered.