Potterton Promax Store Boilers
Potterton Promax Store Boiler prices range between £1,894.82 and £2,135.40 including VAT and excluding installation fees.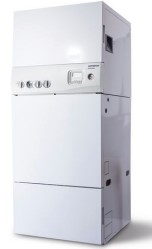 Ideal for fully pumped, sealed systems, the Potterton Promax Store is a floor standing condensing combination boiler with an integrated hot water store to provide hot water and central heating.
It measures 1264mm (H) x 550mm (W) x 600mm (D), meaning it can easily fit in a standard-sized airing cupboard. This boiler also offers a central heating output of 24kW and is available with a 90, 115 or 150 litre built-in storage tank. By having its own water storage tank, there is no need for this boiler to be installed alongside a cylinder or any other tanks.
Suitable for a variety of property types and sizes, the Promax Store comes with a standard parts and labour warranty and typically costs between £1,894.82 and £2,135.40.
Boiler Energy Efficiency Credentials
This condensing gas system boiler has an efficiency rating of 89%, meaning it is an A-rated appliance for heating and hot water efficiency. If you want to improve efficiency and save even more money on your energy bills, you can use the boiler with Megaflo Eco Solar Cylinders or Santon Premier Plus Solar Cylinders – both of which reduce running costs by as much as 60% by using the sun's energy to provide you with hot water.
Promax Store Technology and Main Advantages
The Potterton Promax Store features a special roller system to allow the unit to be moved and installed with ease. It is supplied with a pre-plumbing jig to shorten installation time and a simple mounting plate to make sure installation is always quick and easy.
This model does not require a pump overrun, which also helps to speed up installation and make things less disruptive for your family. The boiler comes with flueing options of up to 20 metres as well to give you a greater choice of areas in where the unit can be located.
One of the best things about this Promax Store is that it's a fully modulating boiler, meaning it can adjust its output to from 24kW to 6.8kW when less heat is required. Because of this, the boiler is suitable for a wide range of domestic applications.
Is the Potterton Promax Store the Right Boiler Type and Size for Your Home?
Whilst this boiler is ideal for various homes, you will need to have some idea of your typical hot water requirements as this will determine whether you should choose the 90, 115 or 150 litre unit. It can be quite tricky to work this out by yourself, so we suggest you ask a Gas Safe engineer to assess your property, as well as your heating and hot water usage habits to help ensure you pick the right version of this floor standing model.
229
KEY FEATURES & BENEFITS
| | |
| --- | --- |
| A-rated combi boiler | Save money on your gas bill |
| Modulation range from 6.8kW to 24kW | Maximises efficiency and lowers energy consumption |
| No pump overrun required | Speedy and less disruptive installation |
| Simple mounting plate | Quick and easy installation |
| Pre-plumbing jig | Saves time and money on installation |
| Flue lengths up to 20 metres | Siting flexibility |
| NOx Class 5 – Best in class | Environmentally friendly |
| Compatible with Megaflo Eco Solar Cylinders and Santon Premier Plus Solar Cylinders | Greater fuel savings for hot water |
| 2-year parts and labour warranty | Confidence and peace of mind |
Our Honest Opinion of the Potterton Promax Store
Surprisingly lightweight, this model by Potterton is fairly large so it will only be a sensible option for homes where storage space isn't an issue. It does, however, offer siting flexibility because it can be used with a range of flue options and comes with a unique roller system for easy movement.
This model is specifically designed for homes with multiple bathrooms and high hot water demands, whether it be a new build property or even a social housing environment. And because Potterton has developed this boiler to make installation really quick and straightforward, you should be able to save some money on the fitting works.
Although a practical solution for certain homes, many engineers have commented that Potterton boilers aren't as reliable as other well-known boiler brands, such as Worcester Bosch and Vaillant. With this in mind, we recommend you have a chat with an engineer who has previously installed this model to find out if it's as good as Potterton has said.
Advice on Boiler Quotes and Gas Safe Engineers
When obtaining Potterton Promax Store Boiler quotes, make sure you liaise with local and national companies to find the best deal and ask for a fixed price to avoid any unexpected charges. Also, it's crucial to check that your chosen installer is Gas Safe registered so that you know they are legally allowed to work on your new boiler. You can find out the registration status of an installer or business by viewing the information on their ID card or checking the official Gas Safe Register online.