Ideal Logic+ Combi Boilers
Ideal Logic+ Combi Boilers typically cost between £800.82 and £914.75 including VAT and excluding installation.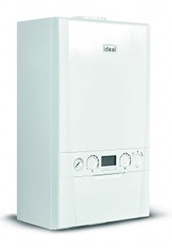 Known for being super quiet, the Ideal Logic+ Combi is an award-winning condensing combination boiler that is capable of providing you with both heating and hot water.
It measures 700mm (H) 395mm (W) x 278mm (D) and is small enough to fit in a kitchen cupboard, making it an excellent space saving solution. This model is a good option for new builds and replacement installations and is available in 24kW, 30kW and 35kW outputs.
Designed to suit most property types and sizes, the Logic+ Combi will set you back anything between £800.82 and £914.75 before installation fees are added. A standard 7-year parts and labour warranty is included, as is a 10-year warranty on the boiler's heat exchanger.
Boiler Energy Efficiency Credentials
The ideal Logic+ Combi is an excellent energy saving boiler that is Energy Trust Saving endorsed and SEDBUK A-rated for heating and hot water efficiency. It's a fully modulating appliance, meaning it has the ability to reduce from its maximum output to its minimum output of 4.8kW to improve both boiler longevity and efficiency. For greater cost and energy savings, you can use this unit with a range of optional Ideal accessories and controls including a mechanical timer, weather compensation kit and an app-controlled Touch Connect thermostat.
Logic+ Combi Technology and Main Advantages
This compact boiler has built-in frost protection to protect your investment from cold weather damage, as well as a pre-wired mains lead and universal condensate connection. It ensures a quick and hassle-free installation and can be supplied with an extensive range of additional flueing options to allow for location flexibility.
The range includes three output sizes with different maximum hot water flow rates, which are as follows:
Logic+ 24kW Combi – 9.9 litres per minute
Logic+ 30kW Combi – 12.4 litres per minute
Logic+ 35kW Combi – 14.5 litres per minute
An easy to use LCD back-lit display is included, along with simple boiler controls to make life easier for you – the end user. The boiler can also modulate down to an extremely low output (4.8kW) to optimise fuel efficiency, lower your energy bills and reduce the risk of component wear and tear. So if demand for heat is suddenly reduced in your home, the boiler will automatically adjust its output to match demand.
Is the Ideal Logic+ Combi the Right Boiler Type and Size for Your Home?
By being a combi, this boiler is perfect if you don't have enough space to store bulky tanks or a hot water cylinder because it provides heating and hot water all by itself. It also comes in three outputs with options suitable for small, medium and large homes. As a rough guide, the greater your demand for heating and hot water, the higher the output you'll need. Also, keep in mind that combi boilers struggle to cope with more than one shower or bath running at the same time, however, the 35kW unit should be able to handle this. To make sure you pick the right output, always ask a Gas Safe engineer to assess your home and usage habits before purchasing the Ideal Logic+ Combi.
120
KEY FEATURES & BENEFITS
| | |
| --- | --- |
| A-rated combi boiler | Save money on your gas bills |
| Received a Queen's Award for Enterprise in 2013 | Award-winning boiler |
| Good Housekeeping reader recommended in 2013 and 2017 | Tested and recommended by homeowners |
| Quiet Mark approved | Ultra-quiet whilst in operation |
| NOx Class 5 – Best in class | Environmentally friendly |
| Built-in frost protection | Prevents cold weather damage |
| Fully back-lit LCD display | Easy to operate and adjust temperature |
| 10-year warranty on boiler and filter | Can be installed almost anywhere |
| 7-year parts and labour warranty | Confidence and peace of mind |
| 10-year warranty on heat exchanger | Added peace of mind |
Our Honest Opinion of the Ideal Logic+ Combi
Ideal's Logic+ Combi is a decent, user-friendly boiler that works really well and has impressive features. The display always tells you what mode the appliance is in and lets you know what the boiler is doing at all times. In additional to being easy to use, it's lightweight and one of the easiest boilers to install, with many engineers saying that they have had no issues with installation and maintenance.
This model has also received the Quiet Mark accreditation, making it ideal for placement in or near a busy room. Plus, the Logic+ range was awarded the Queen's Award for Enterprise in 2013 and was recommended by the readers of Good Housekeeping in 2013 and 2017.
Having said all that, you need to be aware that some homeowners and engineers have described the boiler as average as they have experienced some issues later down the line. But remember, the Logic+ Combi does come with a lengthy 7-year warranty so you will be covered if any problems arise in the future.
Advice on Boiler Quotes and Gas Safe Engineers
If you're thinking about purchasing the Ideal Logic+ Combi Boiler, don't forget to get a fixed price quote on both the boiler and the installation work. This way, you'll be protected from hidden charges and have a better idea of how much everything is going to cost. You must also make sure your chosen installer is Gas Safe registered, which confirms that they are legally allowed to carry out work on gas appliances. It's easy to check – simply ask to view their Gas Safe ID card or take a look at the official register online. Alternately, you can use our free quotation service and have peace of mind that your quotes are being sent from only Gas Safe businesses and engineers.