Baxi EcoBlue System Boilers
Baxi EcoBlue System Boilers typically cost between £914.72 and £1,127.99 including VAT and excluding installation.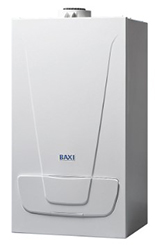 The Baxi EcoBlue System is a flexible, compact and energy efficient boiler that comes in a variety of different heat outputs from 12kW to 32kW.
This model measures 700mm (H) x 380mm (W) x 295mm (D) and is a suitable appliance for properties of all sizes, as well as homes with more than one bathroom. As this is a system boiler, it does require a separate cylinder for storing your hot water but you won't need any tanks in your loft space.
Supported by a free 7-year warranty, the EcoBlue System will set you back anything between £914.72 and £1,127.99.
Boiler Energy Efficiency Credentials
Baxi's EcoBlue System is Energy Saving Trust endorsed and has received a SEDBUK A rating in terms of energy efficiency. It's also an environmentally friendly unit that has been awarded a class 5 NOx rating. With the ability to retain around 90% of the energy it produces, this model is a great option if you want to reduce those energy bills. And if you're thinking of updating your existing hot water storage cylinder, you can choose to use this boiler with a Megaflo Eco Cylinder to maximize energy efficiency and enhance your comfort levels.
EcoBlue System Technology and Main Advantages
One of the great things about the EcoBlue System is that it has been made with high-quality Baxi parts to provide outstanding performance. Once installed, you'll quickly realise how easy it is to use, which is mostly thanks to its simple controls and LCD display. Whilst we're on the subject of controls, all of the buttons and knobs are concealed to make the boiler ideal for families with young children.
The boiler comes with a full wall-mounting jig, integral filling loop, a choice of flue lengths and easy access to boiler connections to make installation quicker and easier. Your engineer can also enjoy front access to all of the components when carrying out a service or maintenance work. Other accessories can be purchased to improve performance, efficiency and comfort, such as plug-in Baxi timers, room thermostats and wired outdoor weather sensors.
Is the Baxi EcoBlue System the Right Boiler Type and Size for Your Home?
Available in heat outputs of 12kW, 15kW, 18kW, 24kW, 28kW and 32kW, the EcoBlue System is a great choice for properties large and small. Homes with lower heating and hot water demands should be able to opt for one of the lower power options, and households with greater demands will need a higher output. We should also mention that system boilers can provide a constant supply of hot water to any number of taps at the same time, so this model is particularly ideal for dwellings with multiple bathrooms. To ensure you pick the right boiler output, you must get a Gas Safe engineer to assess your home and unique requirements.
295
KEY FEATURES & BENEFITS
| | |
| --- | --- |
| A-rated conventional boiler | Save money on your gas bill |
| Class 5 NOx rating | Environmentally friendly |
| Choice of flue lengths | Allows for versatile siting |
| LCD Display and easy to use controls | User-friendly |
| Concealed controls | User-friendly |
| Compatible with Megaflo Eco Cylinder | Provides high levels of energy efficiency and hot water performance |
| 7-year parts and labour warranty | Confidence and peace of mind |
Our Honest Opinion of the Baxi EcoBlue System
To be honest, there's nothing not to like about the EcoBlue System with genuine Baxi parts and a range of features to please even the most critical of boiler experts. As with all of the other models in the EcoBlue range, this boiler has been designed based on feedback from not just engineers but also end-users – so it comes as no surprise that it's a reliable little performer.
If you plan to keep your boiler tucked away, this appliance will fit in a kitchen cupboard provided that it is 300mm deep. But it doesn't really matter where you put the EcoBlue System because its modern design helps to ensure it looks great wherever you decide to have it installed. And let's not forget about the superb 7-year warranty, which shows Baxi's confidence in this exceptionally energy efficient system boiler.
Advice on Boiler Quotes and Gas Safe Engineers
You need to remember that a new boiler is a costly investment, therefore it is essential that you shop around before you purchase the Baxi EcoBlue System. We recommend you liaise with a selection of local and national installers to get the best price on both the boiler and installation. It's also crucial to check that your chosen fitter is Gas Safe registered and fully qualified to carry out the work. To confirm this, simply ask to view their ID card or search for the installer at the Gas Safe Register website. If you want to save time, please don't hesitate to use our free online service to receive boiler related quotes from trusted companies and registered engineers.