Keston System S30 Boilers
The Keston System S30 Boiler typically costs £1,094.79 including VAT and excluding installation.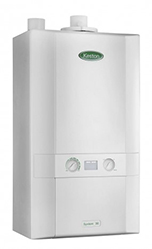 The high-efficiency Keston System is a modulating condensing gas boiler that is designed to provide central heating and hot water when a separate cylinder is installed.
It's also an unvented sealed system boiler that can be fitted virtually anywhere in your home, all thanks to its compact dimensions which measure 700mm (H) x 395mm (W) x 278mm (D). In fact, this model is so small, it can be kept hidden away in a standard kitchen cupboard.
Available in a 30kW output, the boiler usually costs around £1,094.79 and comes with a 5-year warranty. You can get a 7-year warranty up until the 31st December 2018, provided the appliance is installed with a Keston filter and registered within 30 days of installation.
Boiler Energy Efficiency Credentials
By being a fully modulating boiler, the Keston System effortlessly improves comfort and efficiencies because it can reduce its maximum output to a lower output in line with demand. This essentially means the boiler works hard to help you achieve the highest possible energy saving rewards. You also need to know that this appliance is SEDBUK A rated for heating efficiency, so you can be confident that it will play its part in reducing those costly fuel bills.
Keston System Technology and Main Advantages
Boasting a lightweight and compact design, this model by Keston has a low component count to help ensure it never lets you down. Weather compensation is included as standard, as is built-in frost protection to stop the boiler from freezing during the cold months of the year.
It features a clear backlit display and simple controls to enable you to adjust the temperature and check the boiler status with ease. This digital display has simple diagnostics as well, which is handy for your engineer as it will save them time when dealing with any issues.
The Keston System has push and clip flue spigot connections, along with a visible pressure gauge and built-in expansion vessel and pump. It can also be supplied with a wide range or flueing options so that the boiler can be sited up to 27 metres away from the flue outlet.
Is the Keston System the Right Boiler Type and Size for Your Home?
Like all system boilers, the Keston System is ideal for homes with a heating system that includes a cylinder for storing hot water. This particular model is also perfect for homes with 2 bathrooms and without enough space in the loft for bulky tanks. It comes in a 30kW output and will suit medium and large homes with a higher demand for heating and hot water. But remember, you still need to ask a Gas Safe engineer to assess your property and unique requirements to help you determine if this model is right for you.
160
KEY FEATURES & BENEFITS
| | |
| --- | --- |
| A-rated combi boiler | Save money on your gas bills |
| Class 5 NOx rating | Environmentally friendly |
| Compact measurements | Can be installed almost anywhere |
| Weather compensation | Improves comfort levels and energy savings |
| Built-in frost protection | Prevents cold weather damage |
| Large backlit display and simple controls | Easy to operate and adjust temperature |
| Visible pressure gauge | Enables you to check the boilers pressure |
| 5-year parts and labour warranty (subject to terms and conditions) | Confidence and peace of mind |
| 7-year warranty when installed with a Keston filter and registered within 30 days (only until 31st December 2018) | Additional peace of mind |
Our Honest Opinion of the Keston System
It's clear that this system boiler has been built for homes where demand is greater, as well as for homeowners looking for a high-efficiency appliance that offers flexibility and energy savings. The Keston System is also a great solution if you prefer to keep your boiler out of sight because it will fit in a cupboard.
One of the biggest advantages is that the boiler can be installed quickly in almost any room you choose thanks to Keston's unique twin-flue system that runs up to 27 metres. But we should point out that Keston boilers are known for being quite noisy so you might want to think twice about siting it in or near a busy room.
There are a couple of negative points to make though. The Keston System isn't the cheapest boiler on the market and, like most of Keston's model, it comes with a fairly expensive price tag. We have also noticed that the brand doesn't have the best Trustpilot rating, with some owners complaining about boiler reliability and customer service issues.
Advice on Boiler Quotes and Gas Safe Engineers
Whether you're interested in the Keston System or any other model, we suggest you shop around and obtain at least a few quotes on your new boiler and the installation. By doing so, you can compare prices and will have more luck finding a great deal. It's also important to make sure you choose an installer that is Gas Safe registered and fully qualified to carry out the fitting work. To check the qualifications and registration status of a professional, simply ask to view the individual's ID card or visit the Gas Safe Register website. If you haven't the time to do the legwork, you can use our free online service to get quotes from reputable boiler suppliers and Gas Safe engineers.