Glow-Worm Easicom Combi Boilers
The Glow-Worm Easicom3 Combi Boiler typically costs between £580.00 and £620.00 including VAT and excluding installation.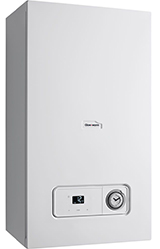 Designed and manufactured in the UK, the Glow-Worm Easicom3 is a user-friendly combination boiler that is available in a choice of 24kW or 28kW outputs.
The unit measures 740mm (H) x 418mm (W) x 300mm (D) and provides exceptional heating and hot water performance without the use of a separate cold water tank or hot water cylinder. When it comes to suitability, this model is ideal for small to medium-sized properties with lower heating and hot water demands.
The amount you will need to spend on the Easicom3 will depend on which output you require, with prices ranging between £580.00 and £620.00. A 3-year parts and labour guarantee is included as standard but the warranty can be upgraded to 4 years or more when the boiler is installed by a Glow-Worm Club Energy installer.
Boiler Energy Efficiency Credentials
If you're looking to cut your fuel bills, the Easicom3 will make a noticeable difference. It's actually A rated for efficiency, which means it will not only help to save you money but also reduce your energy consumption and your home's carbon emissions. Although highly efficient straight out of the box, this boiler can offer higher levels of efficiency when installed with Glow-Worms optional intelligent controls such as the app-based MiGo personal heating assistant control.
Easicom3 Combi Technology and Main Advantages
Boasting a smart design to suit most contemporary homes, Glow-Worm's Easicom3 includes a decent interface and bright LCD display to make it easy for you to programme the boiler. Another user-friendly feature is the straightforward analogue clock, which enables you to pre-set your heating and hot water on and off times.
The range includes two output sizes with different maximum hot water flow rates, which are as follows:
Easicom3 24kW Combi – 10.0 litres per minute
Easicom3 28kW Combi – 11.7 litres per minute
Glow-Worm has also included an automotive grade aluminium heat exchanger to ensure the boiler provides reliable performance, as well as a range of accessories including a pipe cover plate and spacing frame. In addition to all of those features, the Easicom3 is supplied with a horizontal flue with a maximum length of 60/100 metres.
Is the Glow-Worm Easicom3 Combi the Right Boiler Type and Size for Your Home?
This compact model is best suited to flats and small to medium-sized dwellings with 1 bathroom and where demand is lower. As the boiler provides heating and hot water from one single unit and does not need to be installed alongside bulky tanks or cylinders, it's also a great option for homes with little loft and storage space. It is, however, impossible to say whether the Easicom3 is the perfect solution for your home without assessing your property and your typical heating and hot water usage habits. To ensure you pick the right boiler the first time around, we recommend you consult with a Gas Safe engineer over your needs before parting with any money.
91
KEY FEATURES & BENEFITS
| | |
| --- | --- |
| A-rated combi boiler | Save money on your gas bills |
| Automotive grade aluminium heat exchanger | Improves efficiency and reduces maintenance costs |
| Straightforward analogue clock | Can customise your on and off periods |
| Clear LED display | Simple to operate |
| Compatible with the full range of Glow-Worm controls | Alternative energy and cost saving options |
| 3-year parts and labour warranty | Confidence and peace of mind |
| Free warranty upgrade when installed by a Club Energy installer | Additional peace of mind |
Our Honest Opinion of the Glow-Worm Easicom3 Combi
If you've started your search for a budget boiler, it's likely that you will have already come across the Glow-Worm Easicom3 because it is considered a value for money option – and we happen to agree. Not only is this boiler reasonably priced compared to many other combis on the market but it will save you a load of money on your energy bills if you're looking to replace a much older model.
By being a mid-range boiler, the Easicom3 isn't the best combi on the market but by no means should it be overlooked. It's extremely quiet, very reliable and one of the most energy-efficient models on offer from Glow-Worm – a highly respected boiler brand. So, if your heating and hot water demands are low, this model might just be ideal for your needs.
Even though there are only two boilers in the range, you will need to determine which size you need with a little help from a Gas Safe engineer. By getting a professional to assess your home, you won't run the risk of purchasing an oversized boiler, which can lead to wasted energy and money.
Advice on Boiler Quotes and Gas Safe Engineers
As always, we recommend you compare Glow-Worm Easicom3 Combi Boiler prices by getting a range of quotes from different suppliers and installers. This way, you stand a better chance of saving money and finding the best deal. It's also crucial to make sure you choose a Gas Safe installer to fit your new boiler for peace of mind that the work is carried out safely and legally. To check the registration status of an engineer, simply ask to view their ID card or check the Gas Safe Register online. If you haven't the time to do this, you can use our free online service to obtain competitive quotes from only Gas Safe professionals.