Vokera Linea One Combi Boilers
The Vokera Linea One Combi Boiler will cost around £1,069.99 including VAT and excluding installation.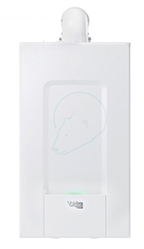 Boasting the latest advancements in condensing gas boiler technology and one of the lowest emissions ratings, the Vokera Linea One is a great choice if you're looking to save energy.
It offers a heat output of 38kW and has an extremely high flow rate of 15.6 litres per minute, as well as a class-leading 10:1 modulation ratio. The appliance measures 845mm (H) x 453mm (W) x 358mm (D), and whilst it isn't small enough to fit in a kitchen cupboard, it's still a space-saving solution because there is no need to install a water tank or cylinder.
Suitable for a medium to large home with multiple bathrooms, the Vokera Linea One comes with a lengthy 5-year warranty and is reasonably priced at around £1,069.99.
Boiler Energy Efficiency Credentials
Vokera's Linea One is rated A by SEDBUK for both heating and hot water and is an Energy Saving Trust recommended combi boiler. A weather compensation control is supplied as standard which, when installed, can make the appliance up to 94% efficient. There is also a DHW memory function that memorises the domestic hot water usage pattern over 7 days and ensures the standard pre-heat function is only used when necessary to maximise energy savings. What's more, further efficiency can be achieved when the boiler is used with an optional OpenTherm control like BeSMART.
Linea One Technology and Main Advantages
One of the best things about this combi boiler is the impressive 10:1 modulation ratio, which can reduce the output to a minimum of 3.8kW or in line with your household's requirements. So, if you require only 15kW, the boiler will automatically modulate itself down to this output. As a result, you'll save energy and money on your bills.
The preheat function that memorises your hot water pattern over a 7 day period is also a nice feature as it enables the boiler to preheat the water before you're likely to take a shower or use hot water from the tap. Then there is the built-built in frost protection to minimise the risk of cold weather damage, as well as an anti-seize function to stop the pump and motorised valve from sticking.
It's also worth noting that the Linea One is a user-friendly combi with simple controls and clear LCD display, allowing you to adjust heating and hot water temperatures with ease. The boiler even comes with a fault diagnostic memory function for easy diagnosis and enhanced Autostop with 4 operation modes.
Is the Vokera Linea One the Right Boiler Type and Size for Your Home?
Thanks to its fabulous modulation ratio and flow rate, the Linea One is an ideal combi for most medium to large homes. It will provide plenty of instant hot water for multiple bathrooms and comfortably heat up to 20 radiators. However, since the Linea One is a combi boiler, it will only be capable of providing a single flow of water and will not be suitable for properties with more than 2 bathrooms. As we always say, this is just a rough guide, and you must ask a Gas Safe engineer to assess your heating and hot water usage habits before purchasing a new boiler.
197
KEY FEATURES & BENEFITS
| | |
| --- | --- |
| A-rated combi boiler | Save money on your gas bill |
| Class leading 10:1 modulation ratio | Maximises efficiency and user comfort |
| Extremely high flow rate of 15.6 litres per minute | Speedy delivery of hot water |
| Weather compensation sensor | Maximises efficiency and end-user comfort |
| Built-in carbon monoxide monitor | Increases space heating efficiency |
| LCD display and easy to use controls | Easy to view and adjust operating modes |
| 5-year parts and labour warranty | Confidence and peace of mind |
Our Honest Opinion of the Vokera Evolve System
The Evolve System is Vokera's best ever system boiler with the ability to reduce your energy usage and slash your energy bills by £200. This is made possible by attaching the optional BeSMART thermostat we mentioned earlier, which boosts efficiency and improves user comfort.
As the Evolve works with both natural gas and LPG (liquefied petroleum gas) straight out of the box, your installer doesn't have to mess around with a conversion kit. And because the boiler is loaded with various advanced and installer-friendly features, the installation work can be completed in a timely manner.
We particularly like the carbon monoxide monitor which alerts you by shutting down the boiler when any excess carbon monoxide is detected. What's more, the system will not run until the issue has been fixed by a service engineer.
Vokera's Evolve System seems to be a really nice appliance that allows you to not only control heating and hot water times but also save a stack of money. It seems as though Vokera has really upped its game with this boiler.
Advice on Boiler Quotes and Gas Safe Engineers
If you feel the Vokera Evolve System is the right boiler for your home, don't forget to compare quotes from local and national installers so you never miss out on the best deals. And remember to ask for a fixed price on the boiler and installation work to avoid any nasty hidden fees. You must also only work with engineers that are listed on the Gas Safe Register – which is now a legal requirement. Simply check the register online or ask to view your installers Gas Safe ID card to check whether they are legally allowed to work on your new boiler. If you don't check, you could be putting your family and property at risk.