Biasi Inovia Combi ERP Boilers
Biasi Inovia Combi Boilers typically cost between £653.70 and £684.00 including VAT and excluding installation.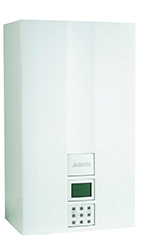 The Inovia Combi ERP is one of Biasi's most advanced wall hung combination boilers and is available in 25kW, 30kW and 35kW outputs.
It has compact dimensions which measure 700mm (H) x 400mm (W) x 290mm (D), meaning it's small enough to be hidden away in a cupboard. Even though it doesn't require tanks or a hot water cylinder, the boiler accepts pre-heated water from a solar cylinder and can boost the temperature of the water when there isn't enough solar heat.
This model offers options for small, medium and large-sized homes and comes with a 5-year parts and labour warranty. The amount you'll need to pay will depend on which output you choose, with prices starting at £653.70 and going up to £684.00.
Boiler Energy Efficiency Credentials
With an efficiency rating of 92%, Biasi's Inovia Combi is a SEDBUK A rated boiler that is endorsed by the Energy Saving Trust. It features quad processor technology to maximise energy efficiency and reduce your energy bills. Built-in weather compensation also comes with this appliance which, when connected to an optional temperature probe, allows the boiler to adjust its heating output and water temperature in line with the temperature outside. If you do decide to include the probe, you'll save more energy and money.
Inovia Combi ERP Technology and Main Advantages
Biasi's Inovia Combi boasts advanced technical features to improve boiler performance, efficiency and reliability. For example, it has a built-in 7-day multi event digital programmer that controls your heating during the day and still allows you access to instant hot water. The boiler also comes with a re-heat option and tells you the temperature of the water entering and leaving the unit.
The range includes three output sizes with different maximum hot water flow rates, which are as follows:
Inovia 25kW Combi – 13.3 litres per minute
Inovia 30kW Combi – 16.2 litres per minute
Inovia 35kW Combi – 19.2 litres per minute
All Inovia Combi units have built-in frost protection to stop the boiler from freezing during winter, along with a built-in anti-seizure function that makes sure the components do not seize up when the boiler hasn't been used for a while. It even features self-rectifying technology to enable the boiler to identify and self-rectify any disruptions in the gas supply.
There is a large LCD screen on the front face of the appliance which displays your annual service reminder, as well as simple up/down modes to enable you to control your heating and hot water temperatures. In addition to this, a cold water inlet temperature sensor is included so that the boiler can produce the exact amount of energy needed to match the desired temperature.
Is the Biasi Inovia Combi ERP the Right Boiler Type and Size for Your Home?
The Inovia Combi is the ideal solution for most flats and houses with limited storage and loft space. We say this because the boiler is small and there is no need for bulky tanks and cylinders since the unit heats water directly from the mains. Larger two bathroom properties will need the highest output and smaller one bathroom homes can choose between the two lower output options. It's impossible to say which output you'll require without seeing your home or discussing your heating and hot water usage habits, so you must consult with a Gas Safe engineer before purchasing this model.
47
KEY FEATURES & BENEFITS
| | |
| --- | --- |
| A-rated combi boiler | Save money on your gas bills |
| Class 5 NOx rating | Environmentally friendly |
| Compact measurements | Can be installed almost anywhere |
| Built-in weather compensation | Improves comfort levels and energy savings |
| Built-in frost protection | Prevents cold weather damage |
| Anti-seizing technology | Reduces maintenance costs |
| Self-rectifying technology | Extremely reliable performance |
| 5-year parts and labour warranty | Confidence and peace of mind |
Our Honest Opinion of the Biasi Inovia Combi ERP
This energy efficient boiler can satisfy the needs of virtually any household and has so many things going for it, from the intelligent controls and functions to the cutting-edge technologies. It can even be used with solar heating and a selection of optional Biasi controls.
Perhaps one of the most impressive additional controls is the Biasi Stat, a complete management control that acts as the boiler's main interface anywhere in your home and provides you with a host of smart functions and energy saving options. With it, you'll also get dual control to enable the boiler to be set at two temperatures – one temperature for your radiators and one for your underfloor heating system.
For a compact and relatively inexpensive boiler, the Biasi Inovia Combi is a high performing beast that delivers on reliability and value for money. We give it a big thumbs up.
Advice on Boiler Quotes and Gas Safe Engineers
If you're thinking about purchasing the Biasi Inovia Combi ERP Boiler, don't forget to shop around for at least 3 boiler replacement and installation quotes to stand more of a chance of finding a great deal. It's also important to make sure your chosen installer is fully qualified and legally allowed to fit your new appliance. You can find out by asking to view the details on their Gas Safe ID card. Alternatively, you can check the qualifications of an installer at the official Gas Safe Register website. And remember, we can connect you to trusted boiler suppliers and Gas Safe engineers so that you can obtain free no-obligation quotes without any hassle.